x
x
Author: S.M. Blooding
Narrator: Kalinda Little
Series: Whiskey Witches, Book 2
Length: 9 hours 17 minutes
Publisher: Whistling Book Press
Released: Jul. 5, 2017
Genre: Supernatural Thriller

x
x

Going back to Denver should have been easy. Old life. Old routine. Ten kinds of "all good." However, with her gifts open, the paranormal world isn't going to let her have that easy life. It turns out her partner of the last five years is a vampire and has been for several decades. He's also the regional paranormal protector. So when a few shapeshifters go missing, he gets the case. But there's also a demon killing those shapeshifters, a demon she can't hunt because she's still an open target for possession. Not to complicate matters, Dexx isn't about to let Paige out of his sight. Bringing a demon hunter to a shapeshifter party only makes things that much more interesting. But when he gets bitten, the entire game changes.

x



x
x
x
x

Frankie lives in beautiful Montana with her Darling Dork, his two part-time girls, and their cat, Tesla. She enjoys creating with her wonderful husband, doing everything from crochet, to sewing, to art, and, of course, writing. She's lived a pretty colorful life, giving breath to her stories.

She's dated vampires, werewolves, sorcerers, weapons smugglers, U.S. Government assassins, and slingshot terrorist. No. She is not kidding.
x
x 

Kalinda Little is a 28 year old web developer who started playing around with audio and never stopped. Currently based out of Portland Oregon, she has spent time all up and down the West Coast, including several years is Ashland where she worked backstage at the Oregon Shakespeare Festival. She is a chapter leader for the Nine Bridges Writers, a nonprofit that aims to assist and support writers in all genres, by providing resources and critique.

While she only started recording professionally in April of 2016, she had over two hundred hours of amature recording and editing available before that point. To date, she has narrated 27 books, with another 3 set to come out before the end of 2017.
x
x

x
x

I received this audiobook as part of my participation in a blog tour with Audiobookworm Promotions. The tour is being sponsored by S.M. Blooding. The gifting of this audiobook did not affect my opinion of it.
I had listened to Whisky Witches a few days ago and I was interested in what was going to happen to Paige and her friend Dexx next. I liked Blood Moon Magick more than Whisky Witches partly because it wasn't as dark as the first one.
Paige finds out that the world doesn't just have humans, witches, and demons. There are also vampires and shapeshifters and her partner is a vampire! She can't believe that he's been her partner for 5 years and she never realized that he was a vampire. To her credit though, her grandma insisted that there were no vampires so why would Paige even consider it?
The pace of Blood Moon Magick is super speed. There are new characters, lots of twists, danger, suspense, and the occasional laugh. 
Paige is strong but angry (understandably). She handles all that she learns well but she's mad at her family for lying to her. She hasn't even gotten over them binding her powers yet and she's beginning to wonder if she knows her family at all.
I like S.M. Blooding's writing even more after listening to Blood Moon Magick. Kalinda Little does a good job narrating. She has good timing and inflection and I was able to follow the different characters by the changes in her voice. I did find Tony's voice annoying, though, and cringed every time he spoke.
I recommend Blood Moon Magick if you like fantasies with demons, witches, vampires, and shifters. This book does stand on its own but it would be better if you read Whisky Witches first.
x
x 

Q&A with Narrator Kalinda Little
How did you end up recording audiobooks?

I remember listening to audiobooks from a very young age. I still have cassette tapes of some of my favorites. There was a full cast rendition of The Hobbit, all the Harry Potter books and a lot of Redwall. The stories seemed to come to life when they were being read like that. I could tell each of the characters apart just by how they were read. Later I found a collection of Sherlock Holmes radio dramas in my local library and that added a whole new flavor.

I did a bit of acting in high school and then worked with SOU and the Oregon Shakespeare Festival and quickly learned that while I'm not great on stage, I have a wide vocal range.

If anyone ever asks voice acting is very different from regular acting.

At some point I stumbled onto a community that recorded Podfic: fanfic as audiobooks. These people aimed for fandom to be all inclusive and it served as a practice field for those readers who wanted to become professionals. I loved it hearing new stories featuring my favorite characters, and if these people could do it, then I could too.

I started with a couple of my own stories. Looking back it's obvious I had no experience, but there it was, I'd proved I could do it. And I kept doing it. There are nearly 150 fanworks that I recorded out there on the internet if you know where to look. Some of them are better than others.

I was eventually pushed into the professional market by someone in that community. They were talking about how they had taken these skills I had and gone professional. I put out a few auditions on a lark. I'd heard all the stories about rejection and how you have to apply hundreds of times before you get anywhere. Except all that practice paid off. I was asked to produce a book from the first batch of auditions. The book was

One Night With A Dragon

, and it was the kind of easy Romance story that I knew I could handle.

After that, well, I'd done it once, I could do it again. I've kept recording and I don't plan on stopping any time soon.

What's your favorite part of recording a new book?

The same part that anyone would be happy about when getting a new book. I fall in love with the characters and fight with them through their troubles like any reader, and I try to put that into my reading. If it's a tense action scene I try to keep that tension in my voice. If it's a happy scene I'll read with a smile.

But I guess what makes recording a book different from reading it (at least for me) is figuring out the characters. I love doing voices and picking the right voice is definitely important to me.

What's your process?

Whenever I get a new book I try to ask for the author's thoughts on the characters. What they think the tone should be. Once that's settled I read maybe the first few chapters, but no more. Other professionals may look down on me for it, but I find recording a story without knowing how it's going to end helps me put more of my first reaction into the recording. More surprise when something unexpected happens, more pain when someone is hurt, more passion and relief and joy.

Editing is a whole other mess. I do all my own editing. That means going through, taking out mistakes, and choosing which take was the best one. An audio file that ends up being half an hour long, might start out being 45 minutes. Then once I have a clean copy, I get to the fun part: adding effects.

Writers have so many tools they can use, be it punctuation, italics, capitalization, formatting, all of which will let a reader know something is happening. Sometimes I can translate those choices into audio: speaking louder and more forcefully for caps-lock. Other times it's not so easy. The Whiskey books have been a great chance for me to stretch those skills. A demon shouldn't sound like a shifter, a memory should sound different then when someone is possessed. I've done my best to both keep things clear to the listener and add an extra element to the story that you wouldn't get just reading words on a page.

So character voices?

I know a lot of narrators don't do voices, but it's always seemed natural to me, maybe because of my early exposure to full cast audiobooks and radio plays.

Once the author tells me what they think of the character I take that and the physical description from the book to choose a voice. I try to pick voices that both fit the character (do they have an accent? What's their personality and profession?) and set them apart from the other characters. The listener should always know who is speaking.

This goes beyond just accent. The volume, cadence and personality all affect what voice I choose. I once had a character that thought of the world as one big joke, so I wore a half sneer whenever they spoke. I

A Barrel of Whiskey

we were introduced to a whole new set of characters. I gave detective Gomez a slight accent, because of her name and description, but she's also a dryad, so i gave her a softer more flowing voice. Chuck made his entrance as a wolf-man so he got an accent where I spoke through my teeth.

There are times when I've changed my mind and re-recorded, but it doesn't happen often.

What equipment do you use?

I record and edit in Audacity. I have several microphones, my primary setup is a turtle beach headset, but I now have a Mikme as a portable alternative. I've heard great things about snowball mics, but I tend to move around too much to get consistent audio. I talk with my hands.

What do you have coming down the line?

I've got a few stories I'm working on at the moment. I've been recording a lot of Pulp stories recently and the next in that vein is

Lady ACTION: The Sands of Forever

. An action / spy novella by Ron Fortier. Then

Plausible Deniability: Book Four of The Chronicles of the Harekaiian

by Shanna Lauffey, a novella about time travel.

Then of course there's

Witches of the West

where Paige comes to my hometown of Portland Oregon to once again up the ante between the Witches, the shifters, and the rest of the supernatural community.

Whiskey Witches Giveaway: 3-Month Audible Membership
x
x

Nov. 5th:
Dab of Darkness Audiobook Reviews
Nov. 6th:
Nov. 7th:
Nov. 8th:
Nov. 9th:
Nov. 10th:
Nov. 11th:
x
x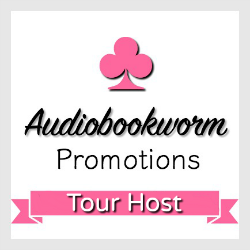 ➜Sign up as a host here
x
x