x
x
Author: Dan Petrosini
Narrator: Joseph Kidawski
Length: 8 hours 31 minutes
Publisher: Dan Petrosini
Released: Jan. 25, 2018
Genre: Science Fiction
x

x
x

In the face of a death-defying power, what's the "new normal"?

Like all reporters, Jack longs for a breaking story but is stuck writing obituaries for a small-town rag. As his frustration mounts, it hits him that no one has died in over three days. Jack's odd observation becomes something far stranger when he connects a meteorite to the bizarre phenomenon.

Seizing the opportunity, Jack breaks the story and after a struggle to control the meteorite's power is resolved, a swelling population begins to create havoc. With the survival of the human race hanging in the balance, politicians enact increasingly horrific measures and desperate citizens take matters into their own hands.

Jack's in a position to not just report the news, but change it, and his decisions and observations creates an epic thriller that pits the potential of human immortality against a force designed to change – or obliterate – humanity itself.

Only one man might stand in its way … the man buried in the obits department.

The Final Enemy is a story of social disintegration as well as a saga of survival. Secret plans, starvation, suicide, and a series of events that spiral the human race into a desperate survival mode evolve from a seemingly singular event and leads to a fast-paced action story that delights with its penchant for the unexpected.

In the Matthew Mather and A.G. Riddle tradition, The Final Enemy is a gripping blend of thriller and science fiction that will prove hard to put down.

x



x
x

 I received this audiobook as part of my participation in a blog tour with Audiobookworm Promotions. The tour is being sponsored by Dan Petrosini. The gifting of this audiobook did not affect my opinion of it.
Many people want to live forever but have they really thought that through? Dan Petrosini has, and The Final Enemy shows that maybe living forever wouldn't be as great as you might think. With no one dying from natural causes, suddenly the world population would grow faster than ever before. Where would all of those people live? More importantly, what would happen when they can't all be fed?
Some of the things that the US government does in The Final Enemy is unthinkable, at least right now. But when people start dying of starvation, how far would we be willing to go? I'm glad we don't have to find out, at least not in my lifetime. 
This is good science fiction with just a shade of Soylent Green and a lot of politics and the breakdown of society. The main character, Jack, is a good reporter but will he be willing to give up integrity in order to avoid starvation?
The narrator does a good job with timing and pacing. There were a lot of male voices and they would have been difficult to distinguish, but he always included who was talking which helped.
I definitely recommend The Final Enemy. It's good fiction that will give you something to think about.
x
x
x
x

Dan has his own view of the world and culture or lack thereof. He is passionate in his belief that people can realize their dreams if they focus and take action. He actively encourages people to break out and live a the life they want.
Married with two daughters and a needy Maltese, Dan splits his time between South West Florida and New York City, where he was born. Dan teaches at local colleges, writes novels and plays the tenor saxophone in a couple of jazz bands. He also drinks way too much wine.
Dan has an active blog at http://danpetrosini.com and has written seven novels.
z
z

Joseph Kidawski is a Boston born actor, musician and artist based in Los Angeles California. He is a lover of audiobooks and it is his distinct pleasure to be a part of the worldwide community of narrators. Find out more about Joseph at http://www.kidawski.com
x
x
z
z
Q&A with Author Dan Petrosini
Were there any real life inspirations behind your writing?

My belief is that it is impossible to separate your experiences from your writing. I wrote one book, Complicit Witness, that emanated directly from the neighborhood i lived in during my teenage years.

How do you manage to avoid burn-out? What do you do to maintain your enthusiasm for writing?

I haven't been slowed by burnout. However, its the marketing side of things that tire and frustrate me. It takes an inordinate amount of time to market my work and that takes away from writing. Maintaining my enthusiasm is easy as I have a lot of ideas for stories running around in my head.

Are you an audiobook listener? What about the audiobook format appeals to you?

Yes. I enjoy listening to good narrators bring the story alive. The flexibility of being able to 'read' while driving, or otherwise engaged, is wonderful

What do you say to those who view listening to audiobooks as "cheating" or as inferior to "real reading"?

I would recommend they listen to a book or two. It seems highly unlikely they would not be drawn into a story and realize how narrators can enhance a books 'read'.

How did you celebrate after finishing this novel?

I didn't really celebrate, I immediately started my next book, Vanished. (An audio version is now in production.)

What gets you out of a writing slump? What about a reading slump?

I force myself to write even when its not easy. When plot issues arise, as they always do, i find a long walk or drive helps to work things out. As far as reading, I don't get into slumps though at times, I find it hard to find something that i can quickly submerge into. There seems to be a connection to what i am struggling to write myself.

In your opinion, what are the pros and cons of writing a stand-alone novel vs. writing a series?

As a reader, I was never drawn to series and thus never considered writing one. However, many author groups detail the benefits of a series and now I have three books completed. It's too early to tell, as book 2 just released and 3 in editors hands, if there is a benefit besides having a fully fleshed main character! That said, I am aching to get back to a new stand alone idea.

What bits of advice would you give to aspiring authors?

The most important aspect I've learned is to write consistently. Block time out and start writing. If possible each day but if you can only write a day a week, that's fine just make sure you do it each week. You will grow as a writer and the words will pile up.

What's next for you?

My next novel is in my editor's hands right now, so it will be out in a few months. Next, I am working on two outlines – one for the fourth book in the Luca Mystery Series and the other a Sci-Fi story.
x
x

Feb. 27th:
Feb. 28th:
Dab of Darkness Audiobook Reviews
Mar. 1st:
Mar. 2nd:
Mar. 3rd:
Mar. 4th:
Mar. 5th:
x
x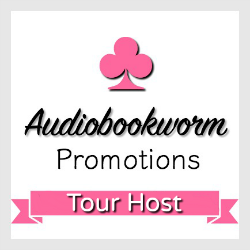 ➜Sign up as a host here