x
x
Author

: Alec Birri
Narrator

: Jonathan Keeble
Length

: 6 hours 39 minutes
Publisher

: Essential Music Limited⎮2018
Genre

: Science Fiction
Series

: The Condition Trilogy, Book 2
Release date

: Jan. 17, 2018
x

x
x

The second in a dystopian trilogy based on the author's command of a top secret government unit.

Discovering an infamous Nazi doctor conducted abortions in Argentina after the Second World War may not come as a surprise, but why was the twisted eugenicist not only allowed to continue his evil experiments but encouraged to do so? And what has that got to do with a respected neurologist in 2027? Surely, the invention of a cure for nearly all the world's ailments can't possibly have its roots buried in the horrors of Auschwitz?

The unacceptable is about to become the disturbingly bizarre. What has the treatment's "correction" of pedophiles got to do with the president of the United States, the pope, and even the UK's Green Party?

As if the Condition trilogy wasn't unsettling enough….


x
x
x
x

Alec Birri served thirty years with the UK Armed Forces. He commanded an operational unit that experimented in new military capabilities classified at the highest level (Top Secret Strap 3) and it is this that forms the basis of his novels. Although semi-autobiographical, for national security and personal liberty reasons, the events and individuals portrayed have to be fiction but are still nonetheless in keeping with his experiences.
x
x

If you regularly enjoy listening to audiobooks then this Shakespearean actor will need no introduction. Winner of a 2016 SOVAS award, Jonathan's voice is rightly recognized as being one of the best, and his narration of The Condition Trilogy is no exception.
x
x
x
x

I received this audiobook as part of my participation in a blog tour with Audiobookworm Promotions. The tour is being sponsored by Alec Birri. The gifting of this audiobook did not affect my opinion of it.
This second book in the trilogy starts with a detective in Argentina who is sent to a village to dispose of evidence of experiments done by an ex-Nazi doctor. He can't believe the atrocities he finds in the village or the fact that the government wants to cover it up. He decides to track down the doctor to get answers. I didn't know what this first half had to do with the first book, but I was eventually enlightened.
The second half of book 2 takes place in 2027, and doctors continue to work on a new treatment to cure all of the world's physical and mental ailments. AIs are also becoming common. With so many improvements so fast, what will happen? How far is too far when it comes to improving and lengthening our lives?
The narrator did a good job with timing and pacing as well as the different voices.
There are a couple surprises and I can't wait to listen to book 3 to find out what happens. This book could be read as a stand-alone but I recommend reading the first book to get the full appreciation of what occurs in book 2.
x
x


Q&A with Author Jonathan Keeble
How did you wind up narrating audiobooks? Was it always your goal or was it something you stumbled into by chance?

I started narrating audiobooks when an audiobook company heard some of my work for the BBC – Book at Bedtime etc – and asked me to narrate for them. That was a fair few years and over 600 audiobooks ago.

A lot of narrators seem to have a background in theatre. Is that something you think is essential to a successful narration career?

I don't think a background in theatre is essential but I do believe the storytelling aspect can help give you a toolkit to help in your narrating work.

What type of training have you undergone?

I trained at the Central School of Speech and Drama in London.

What are your favorite and least favorite parts of narrating an audiobook?

My favourite part of narrating an audiobook is simply telling the story to the best of my ability and hopefully conveying the author's intentions in as authentic a way as possible. My least favourite aspect of audiobook work is when scripts are late and prep time is limited. I won't go into studio unless I'm fully prepped.

Is there a particular genre you feel unsuited for? Have you ever declined a project because you didn't think you were right for it?

I have turned down work where in my opinion the content of the book is not something I want my name attached to; a particularly nasty thriller with way too much gratuitous violence against women springs to mind.

How did you decide how each character should sound in this title?

I approached this title in my usual way. Often the author will actually describe a character's voice , if they don't then it's a question of finding a voice you believe is truthful to the character but distinct enough from your other characters so that your listeners always know who is talking even when speech is not attributed .

Has anyone ever recognized you from your voice?

People have recognised me from my voice several times. When I was in the Archers on BBC Radio 4 it happened quite a lot. I've been lucky enough to have appeared in over 500 radio plays for the BBC and because radio/audio is such an intimate medium people get to know your voice quite well.

How does audiobook narration differ from other types of voiceover work you've done?

Audiobook narration is an all-consuming experience, it's a bit like running a marathon, by comparison all other types of audio work are sprints.

If you could narrate one book from your youth what would it be and why?

I would love to narrate Melvyn Bragg's biography of Richard Burton. Listening to Burton in Under Milk Wood was the reason I became an actor.

What bits of advice would you give to aspiring audiobook narrators?

Always go into the studio fully prepared. You owe it to the author, the listener and yourself. Your name will be on that recording long after you're dead , so make sure you have done everything you can to do the job well.
x
x

x
x

Book One
Mar. 6th:
Dab of Darkness Audiobook Reviews
Mar. 7th:
Mar. 8th:
Mar. 9th:
Mar. 10th:
Mar. 11th:
Mar. 12th:
Carolyn M. Walker, Fiction Author
Book Two
Mar. 13th:
Dab of Darkness Audiobook Reviews
Mar. 14th:
Mar. 15th:
Mar. 16th:
Mar. 17th:
Mar. 18th:
Mar. 19th:
Carolyn M. Walker, Fiction Author
Book Three
Mar. 20th:
Dab of Darkness Audiobook Reviews
Mar. 21st:
Mar. 22nd:
Mar. 23rd:
Mar. 24th:
Carolyn M. Walker, Fiction Author
Mar. 25th:
Mar. 26th: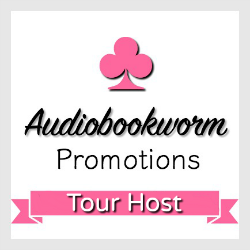 ➜Sign up as a host here
x
x