x
x
Author: Rachel Amplett
Narrator: Alison Campbell
Length: 8 hours 27 minutes
Series: Detective Kay Hunter, Book 1
Publisher: Saxon Publishing
Genre: Mystery, Police Procedural

x
x

"If you want to see your daughter alive again, listen carefully."

When the body of a snatched schoolgirl is found in an abandoned biosciences building, the case is first treated as a kidnapping gone wrong.

But Detective Kay Hunter isn't convinced, especially when a man is found dead with the ransom money still in his possession.

When a second schoolgirl is taken, Kay's worst fears are realized.

With her career in jeopardy – desperate to conceal a disturbing secret, Kay's hunt for the killer becomes a race against time before he claims another life.

For the killer, the game has only just begun….

Scared to Death is the first book in a new crime thriller series featuring Kay Hunter – a detective with a hidden past and an uncertain future….

If you like the Kim Stone series by Angela Marsons, Peter Robinson's DCI Banks series and the Erika Foster series by Robert Bryndza, discover Rachel Amphlett's new detective novels today.

x
x

x
x

Before turning to writing, Rachel Amphlett played guitar in bands, worked as a TV and film extra, dabbled in radio as a presenter and freelance producer for the BBC, and worked in publishing as a sub-editor and editorial assistant.

She now wields a pen instead of a plectrum and writes crime fiction and spy novels, including the Dan Taylor espionage novels and the Detective Kay Hunter series.

Originally from the UK and currently based in Brisbane, Australia, Rachel cites her writing influences as Michael Connelly, Lee Child, and Robert Ludlum. She's also a huge fan of Peter James, Val McDermid, Robert Crais, Stuart MacBride, and many more.

She's a member of International Thriller Writers and the Crime Writers Association, with the Italian foreign rights for her debut novel, White Gold sold to Fanucci Editore's TIMECrime imprint, and the first four books in the Dan Taylor espionage series contracted to Germany's Luzifer Verlag.
x
x

I received this audiobook as part of my participation in a blog tour with Audiobookworm Promotions. The tour is being sponsored by Rachel Amphlett. The gifting of this audiobook did not affect my opinion of it.
Scared to Death begins with a horrific scene which ends up being what is thought to be a kidnapping gone bad. Detective Kay Hunter's team is investigating the kidnapping and murder. She's intelligent, strong, and dedicated and I like her. Her boss is difficult to work for because he doesn't have faith in her but she's determined to prove that she knows what she's doing. 
Rachel Amphlett has a great writing style and the narrator does a good job with pace and enunciation. 
With what turns out to be a serial killer on the loose, Scared to Death is full of intrigue as well as some twists. If you like crime fiction, this is a must read. I'm looking forward to listening to the next book in the series.
x
x
Was a possible audiobook recording something you were conscious of while writing?

It wasn't, but it is something that informs my writing now that I have two series available in audiobook format. I was always a stickler for reading aloud each chapter as I wrote it, because it's a fantastic way to pick up things that don't work, but now that I'm responsible for delivering a script to Alison to narrate, it's given me a new perspective, and I'm finding that I use dialogue more and more to advance the story, because I can really hear the characters' voices in my head now!

How did you select your narrator?

The producers, Audio Factory, made it really easy. I knew I wanted to work with them because they have a lot of broadcast and audiobook experience, and were based in the UK – the same as my detective series. All of their narrators have Soundcloud samples on the Audio Factory website, so I was able to listen to each one and decide who I thought would be the best fit for the books. Alison Campbell has a wealth of experience narrating many books, including crime thrillers, and was a natural choice for the Kay Hunter books. What was very important to me was to find a team who I could work with on a whole series, not just one book. We've just completed the fifth book, Call to Arms, and I can't wait to hear what Alison and Audio Factory come up with for book six later this year!

How closely did you work with your narrator before and during the recording process? Did you give them any pronunciation tips or special insight into the characters?

When we first started working together, I had the first three books in the series narrated in one go. Alison recorded samples for each of the main characters, as well as some of the minor characters in the books so I could hear how she thought they should sound. I have to say, she is a natural for choosing what characters should sound like!
The series is based in Kent, in the UK and there are some very strange pronunciations of place names, so I try to send Alison a list of locations and provide phonetic spellings to save her having to correct anything during the pick-up session.


Were there any real life inspirations behind your writing?

I always have an eye on the news, both local to the area in which the series is set and internationally. You never know where you'll discover the next story idea – it can be a snippet of overheard conversation, or you could be day-dreaming about something as an offshoot to a news story you've read, and suddenly

whoosh!

Off you go, trying to write down the story idea before it escapes your grasp.

How do you manage to avoid burn-out? What do you do to maintain your enthusiasm for writing?

I now write full-time and for the past three months I've got into the habit of walking our dog, Floyd, before I start writing in the morning. We're early risers in our household, so I'm usually at my desk by 6:30am. I get my word count written for the day before I do anything else – save for making a coffee to wake me up!
Once the word count is done, it frees me up to continue to write if I'm still "in the zone" or concentrate on some business and marketing activities.
I do Pilates once a week as well as plenty of stretching at home, and I've invested in a sit/stand desk so I can move about while I'm dictating my word count.
I eat healthily, and I don't snack during the day, and I try to organise a long weekend away every couple of months to get a complete change of scenery – anywhere that doesn't have free wi-fi is usually top of my list.


Oh, and I'm trying to get into the habit of not working in the evenings and relaxing for a few hours before I go to bed these days – I'm a very light sleeper and suffer from insomnia, so chilling out is important!

What do you say to those who view listening to audiobooks as "cheating" or as inferior to "real reading"?

Well, people are entitled to their opinions, of course but I think audiobooks are a great way to manage a toppling "To Be Read" pile if you can't physically sit down to read – the best thing about audiobooks is that you can catch up on your reading while you're driving or doing the housework!

In your opinion, what are the pros and cons of writing a stand-alone novel vs. writing a series?

I've done both, and for me writing the three standalone novels was a necessity – the stories were going around in my head and I couldn't do anything else until they were out of the way. I'm pleased with how they turned out, but I prefer writing series because there's so much more scope for character development – both for the main protagonist and for the supporting cast.

What bits of advice would you give to aspiring authors?

I think it's really important to be doing this because you love writing. Don't ever pay someone to publish your work for you, however do invest in a good editor and cover designer to give you the best head start possible when you hit that "publish" button. Join some writing groups but take writing advice with a pinch of salt – everyone is on a different writing journey.

Do you have any tips for authors going through the process of turning their books into audiobooks?
What's next for you?

I'm about halfway through writing book six in the Kay Hunter series, and I expect that to be out in the summer – in audiobook format as well, of course!
x
x

The Detective Kay Hunter Series Giveaway: Signed Paperback & Bookmark Set
x
x

Book 1
Mar. 29th:
Dab of Darkness Audiobook Reviews
Mar. 30th:
Mar. 31st:
Apr. 1st:
Apr. 2nd:
Apr. 3rd:
Apr. 4th:
Book 2
Apr. 5th:
Dab of Darkness Audiobook Reviews
Apr. 6th:
Apr. 7th:
Apr. 8th:
Apr. 9th:
Apr. 10th:
Apr. 11th:
Book 3
Apr. 12th:
Dab of Darkness Audiobook Reviews
Apr. 13th:
Apr. 14th:
Apr. 15th:
Apr. 16th:
Apr. 17th:
Apr. 18th:
Book 4
Apr. 19th:
Dab of Darkness Audiobook Reviews
Apr. 20th:
Apr. 21st:
Apr. 22nd:
Apr. 23rd:
Apr. 24th:
Apr. 25th:
x
x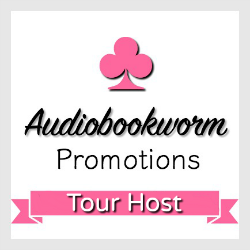 ➜Sign up as a host here
x
x