x
x
Author: Rachel Amplett
Narrator: Alison Campbell
Length: 7 hours 15 minutes
Series: Detective Kay Hunter, Book 2
Publisher: Saxon Publishing
Genre: Mystery, Police Procedural

x
x

Reputation is everything.

When a packed commuter train runs over a body on a stretch of track known to locals as "Suicide Mile", it soon transpires that the man was a victim of a calculated murder.

As the investigation evolves and a pattern of murders is uncovered, Detective Sergeant Kay Hunter realizes the railway's recent reputation may be the work of a brutal serial killer.

With a backlog of cold cases to investigate and attempting to uncover who is behind a professional vendetta against her, Kay must keep one step ahead of both the killer and her own adversaries.

When a second murder takes place within a week of the first, she realizes the killer's timetable has changed, and she's running out of time to stop him….

Will to Live is the second book in a new crime thriller series featuring Kay Hunter – a detective with a hidden past and an uncertain future….

x
x
x

Before turning to writing, Rachel Amphlett played guitar in bands, worked as a TV and film extra, dabbled in radio as a presenter and freelance producer for the BBC, and worked in publishing as a sub-editor and editorial assistant.

She now wields a pen instead of a plectrum and writes crime fiction and spy novels, including the Dan Taylor espionage novels and the Detective Kay Hunter series.

Originally from the UK and currently based in Brisbane, Australia, Rachel cites her writing influences as Michael Connelly, Lee Child, and Robert Ludlum. She's also a huge fan of Peter James, Val McDermid, Robert Crais, Stuart MacBride, and many more.

She's a member of International Thriller Writers and the Crime Writers Association, with the Italian foreign rights for her debut novel, White Gold sold to Fanucci Editore's TIMECrime imprint, and the first four books in the Dan Taylor espionage series contracted to Germany's Luzifer Verlag.
x
x

I received this audiobook as part of my participation in a blog tour with Audiobookworm Promotions. The tour is being sponsored by Rachel Amphlett. The gifting of this audiobook did not affect my opinion of it.
Will to Live is the second book in the Detective Kay Hunter series. I listened to the first book, Scared to Death and liked it so I was looking forward to listening to this book as well.
When a man is hit by a train, a witness tells the police that he was tied to the tracks. Detective Kay Hunter's team starts investigating the murder and realizes that there were other deaths by train that were ruled suicides but were actually murders. Can the team catch the murderer before another death occurs?
I like Kay Hunter. She's intelligent, strong, and dedicated. Her boss is difficult to work for but she knows what she's doing. She's also determined to prove that she was set up in the past when she almost lost her job. 
Rachel Amphlett has a great writing style and the narrator does a good job with pace and enunciation. 
Will to Live is a detective mystery with a good twist at the end. If you like crime fiction, this is a must read. I'm looking forward to listening to the next book in the series.
Rachel Amphlett's Favourite Books in the Crime Fiction Genre
I think, like many crime thriller authors, my love of the genre started when I was about five years old and started reading the famous five series by Enid Blyton.
By the time I was in my very early teens, I was working my way through my mum's collection of Dick Francis books and adding to those each birthday and Christmas when I received book tokens in lieu of presents. On top of that, every time my parents stocked up their bookshelves via jumble sales, I'd be devouring the likes of Ed McBain, PD James, and Robert Goddard. By the time I left school, I'd devoured most of the crime fiction section in my secondary school library, including books by Ken Follett, Agatha Christie, and Michael Crichton.
To this day, I'm unable to walk past a secondhand bookshop…
So, what's the attraction to this genre as a reader?
For me, it's a mixture of entertainment and escapism.
There's nothing like perusing the shelves in a bookshop or library, spotting a cover or a spine of a book, and then reading the blurb and thinking "I've got to read this".
The opening chapter is probably the most important part of a crime thriller for a reader. The anticipation of lifting the front cover and reading that first line, then the second, then turning the page, and then getting completely sucked into the mystery via an opening scene that leads you stunned is second to none.
You know (with a few exceptions) that the villain will be apprehended by the time you reach the last page, the detective will have solved the mystery, and all will be right with the world, but it's the excitement between the first page in the last and trying to work out who the bad guy is, or how they will be stopped, before the detective does.
I have to admit, although I do like reading (and writing) stand-alone crime thrillers, I do enjoy reading books in a series because you get to know the detective over a period of time. You begin to appreciate what drives them. For instance, take Michael Connelly's Harry Bosch series. That character has grown so much since first appearing in The Black Echo, and I think that's what keeps the series fresh. It's not just about the investigation of murder in each book, it's how the main character's life is changed by the investigation and the world around him.
It's the same reason why I enjoyed reading all the Val McDermid Tony Hill series, and the Roy Grace series by Peter James – as well as the fact that the stories aren't just about the main characters, but include a regular supporting cast.
As a crime thriller author, I'm re-reading a lot of the books on my shelves through different eyes these days – I find I'm analysing them more, trying to pinpoint exactly why those stories have endured.
I hope by re-reading the masters, my own writing will continue to grow.
It's also a great excuse to forget the housework for a while…
x
x

The Detective Kay Hunter Series Giveaway: Signed Paperback & Bookmark Set
x
x

Book 1
Mar. 29th:
Dab of Darkness Audiobook Reviews
Mar. 30th:
Mar. 31st:
Apr. 1st:
Apr. 2nd:
Apr. 3rd:
Apr. 4th:
Book 2
Apr. 5th:
Dab of Darkness Audiobook Reviews
Apr. 6th:
Apr. 7th:
Apr. 8th:
Apr. 9th:
Apr. 10th:
Apr. 11th:
Book 3
Apr. 12th:
Dab of Darkness Audiobook Reviews
Apr. 13th:
Apr. 14th:
Apr. 15th:
Apr. 16th:
Apr. 17th:
Apr. 18th:
Book 4
Apr. 19th:
Dab of Darkness Audiobook Reviews
Apr. 20th:
Apr. 21st:
Apr. 22nd:
Apr. 23rd:
Apr. 24th:
Apr. 25th:
x
x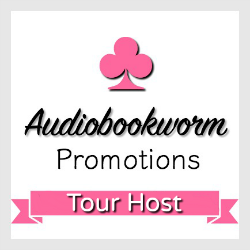 ➜Sign up as a host here
x
x
We are a participant in the Amazon Services LLC Associates Program, an affiliate advertising program designed to provide a means for us to earn fees by linking to Amazon.com and affiliated sites.