x
x
Author: Jennifer Alsever
Narrator: Moira Todd
Series: Trinity Forest Series, Book 2
Publisher: Sawatch Publishing
Released: May 30, 2018
Genre: Young Adult, Paranormal

x
x

OSHUN has everything a young pop star could ever want—fame, fortune, and beauty to spare. But there's something dark inside of her, rising like the tide, fighting to be heard. Something that terrifies her. Because once she lets it out, she knows there's no going back.

EMBER is drowning. Fighting for consciousness, struggling to make sense of the strange dreams she's been having—prophecies of murder, deception, and blackmail. But once she begins to untangle them, she realizes that they might not be dreams at all…and if she doesn't find a way to stop what she's seeing, more people will die.

MADDIE is barely staying afloat. How can she be expected to care about school when her best friend Ember is still missing, presumed dead? So when Ember's brother calls and tells her about his theory about a pop star who may be involved in Ember's disappearance, she rallies him to take a road trip to check it out.

x


x
x
x

A teenager still lives inside author Jennifer Alsever. She spent two decades as a professional journalist, contributing to such publications as Fortune Magazine, the New York Times, Inc Magazine and the Wall Street Journal, before letting her imagination run wild in 2016. The result is Ember's story told in the three-book Trinity Forest Series, her first published fiction work.
When not absorbed in writing, Alsever enjoys a good hike, doing some yoga, hanging with her boys, some moguls on skis, a rigorous mountain bike ride or indulging in the simple pleasures of life. Her favorites: untouched snow, frozen chocolate chips, savasina on a yoga mat and yes, bowls of pan fried brussels sprouts. Jennifer is working on her upcoming novel, Psychic Monkeys, to be released in 2019.
x
x
x

Moira Todd is a Washington, DC-based actor. She originally hails from Mt. Hood, Oregon where the trees are always green, the mountain is always pointy, and the weather is usually rainy. It was there that she learned the secret arts of alpine skiing and whistling at the same time as you hum. While neither has proved useful in her theatre career, she remains hopeful. These days she spends most of her free time swimming, baking bread, and watching whale documentaries.
x
x
x

I received these audiobooks as part of my participation in a blog tour with Audiobookworm Promotions. The tour is being sponsored by Jennifer Alsever. The gifting of these audiobooks did not affect my opinion of them.
I listened to Ember Burning, the first book in the Trinity Forest series and was glad I had Oshun Rising to listen to right after it because I had to find out what was going to happen! 
Ember is no longer supposed to exist. She's been "reborn" as the pop star Oshun. But her rebirth was rushed, she didn't want it, and mistakes were made. So Ember still exists somewhere deep down in Oshun and occasionally, Ember gets a glimpse of what is going on. 
Ember's brother Jared has never given up on finding her. When he calls Ember's best friend Maddie she's concerned about his obsession with finding Ember after three years have passed. She decides a road trip might be what he needs and they end up going to one of Oshun's concerts. Poor Maddie is trying to help Jared and she realizes that she loves him, but she's afraid she's going to lose Jared along with Ember.
Jennifer Alsever does a great job at expressing Maddie's thoughts and feelings as well as her confusion when trying to deal with Jared and Oshun. The narrator, Moira Todd, also does well and has good timing and a good singing voice as Oshun/Ember.
Oshun Rising has a little bit of everything: paranormal, fantasy, horror, romance, drama, and humor. I can't wait until I have the time to listen to the third book in the series. Oshun Rising stops at a good place but the world is still at risk!

How did you get into performing for audiobooks?

I auditioned for an audiobook production company and they pointed me toward ACX, where I can be my own producer, which is really great.

How many audiobooks have you produced?

I've produced 8 now, including Playing with Fire: A #Hacker Novel by Sherry Ficklin, and

Why Can't My Life Be a Romance Novel

by Melinda R. Cordell. I also have three in various stages of production.

Why did you choose to work on Ember Burning?

I love working on books with Female protagonists and I think Ember has a really fun voice.

What was your favorite part of the book?

My favorite is the end when everything really comes to a head and the suspense is at its highest.

What was the hardest part of working on the novel?

The hardest part is actually scheduling. I have to balance audiobooks with acting and teaching. So if I get a cold or something, and can't record for a few days it can really mess up my production schedule.

What's involved in the process?

Well is starts with reading the book. I like to read it once just as an audience and write down my thought on the story as a whole so that I can remember that experience when I'm listening to myself read one sentence over and over. I then read it again and make notes of character descriptions, words I don't know how to pronounce, and any major tone or pacing shifts in the story. Then I'll take a chapter or so at a time, and mark it up. This means writing in the best way to make the story clear, like which words to emphasize and when to breath. I take my marked up section into the studio and record it. Any time I mess up, I just go back and read it again. So what I'm left with is a big long recording with lost of repeated sections. I have to use editing software to delete the mess ups, and any big long breathes that sound weird, and make sure the pacing is effective. This then gets given to the author to approve, and eventually put on sale on

audible.com

How long does it take to create a chapter?

Typically it takes me 10 hours to produce one hour of finished narration.

What is your favorite part of being an audiobook narrator/producer?

My family is pretty spread out, so I love being able to share audiobooks with them, and it's like we're back at home and I'm reading a book to everyone in the living room around the fire.

What's been the hardest part?

Keeping myself on track to meet deadlines is the hardest part. Because it's just me, I have to hold myself accountable so that I don't end up with a week left and half the book to finish.

What's your favorite audiobook you've listen to? Why?

The Lord of the Rings Trilogy narrated by Rob Inglis. I listed to all three on a road trip across the country last year, so it just brings me back to those awesome memories.

What is ahead/next for you? Are you working on any interesting projects? Do you have anything planned or in the works now? (Other books you might recommend?)

Yeah, I've got a few projects in the works. Right now I'm recording Killing Her Softly, a romantic suspense novel by Barb Warner Deane. And in the new year I'll begin production on the next book in Jennifer Alsever's Trinity Forest series, Oshun Rising.

What do you do when you're not working on audiobooks?

I'm in rehearsal for a show, or teaching theatre classes, or maybe going on a hike in the Potomac valley.

What do you expect to happen in the audiobook market?

I'm not sure. Podcasts have certainly exploded in recent years. Audiobooks seem like the perfect medium for commuting. People spend so much time in cars or trains or buses these days, why not be listening to a story at the same time.
x
x

BOOK ONE
Jun. 24th:
Jun. 25th:
Jun. 26th:
Jun. 27th:
Jun. 28th:
Jun. 29th:
Jun. 30th:
BOOK TWO
Jul. 1st:
Jul. 2nd:
Jul. 3rd:
Jul. 4th:
Jul. 5th:
Jul. 6th:
Jul. 7th:
x
x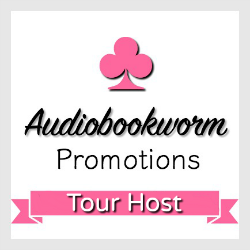 ➜Sign up as a host here