x
x
Author: JT Lawrence
Narrator: Roshina Ratnam
Length: 9 hours 15 minute
Publisher: Author's Republic⎮2018
Genre: Science Fiction
Series: When Tomorrow Calls, Book 3
Release date: Mar. 22, 2018
x


In tomorrow's world where the edges blur between addictive virtual reality and real life, would you hurt your daughter if it was the only way to set her free? When gaming junkie Silver doesn't make it home on the eve of her sixteenth birthday, Kate and Keke go out to find her. It's a treacherous journey navigating a city in the midst of a flash civil war. Shrouded in electrosmog and panic, it's been taken over by vigilante bot hunters as a violent AI uprising puts everyone Kate loves in danger, especially Mally and his anthrobot girlfriend. Suicide Agent Zack's in trouble. After a charade of a trial he's sentenced to hard labour at SkyRest, the most controversial penal labour colony in the country. He's shocked by what he finds there, deep underground, but the more he resists it, the more they brainbleach him into submission. If he doesn't find his way, he'll never be able to tell Kate what he needs to tell her. Which is a problem, because it's the whole reason he exists. With the Doomsday Prophecy looming large, Kate discovers there are forces at play she'd never guess at, and much more at stake than just her or her children's lives. What she'll need to do to keep everyone safe will stretch her beyond every hard limit. Will Kate play the game? Cyberpunk meets the robopocalypse on the edge of litRPG in this dark dystopian thriller. Jack in and get ready for a headsplosion with this third book in the riveting series When Tomorrow Calls. Ready? Your next addiction starts now.



JT Lawrence is a bestselling Amazon author, playwright and bookdealer based in Parkview, Johannesburg. She is the mother of two small boys and a baby girl, and lives in a house with a red front door.
x
x
x

Roshina Ratnam is actress, puppeteer, voice artist and lover of dumplings.
She has performed around the world mostly notably playing Opelila in Janet Suzman's production of Hamlet which toured to the Royal Shakespeare Company. Other highlights include For Colored Girls which received a Fleur Du Cap. Her puppetry work has seen her work with Handspring Puppet Company as well as the award winning political satire TV series ZAnews. She is currently a producer and performer with Pillow Fort Theatre which creates art focused for children aged 18 months to 4 years. Her work as a voice artist has seen her record several books and radio commercials over the years. Roshina Ratnam is a graduate of UCT drama school.
x
x
x
x

x
x
x

I received this audiobook as part of my participation in a blog tour with Audiobookworm Promotions. The tour is being sponsored by JT Lawrence. The gifting of this audiobook did not affect my opinion of it.
In What Have We Done it is 12 years from the end of the second book. Kate's daughter, Silver, is turning 16 soon and according to prophecy, the world was supposed to end on Mally's 16th birthday. It was a few months ago and nothing happened, but things are heating up. Bots are malfunctioning and rebelling and there are bot hunters trying to find and kill all bots. Unfortunately, the bot hunters have a mob mentality. 
While things throughout the world are falling apart, Kate's own world is also falling apart. She needs to find and save her children before it's too late. Although the last 12 years have been peaceful, Kate finds that she has to use that inner strength that she relied so much on 12 years ago. Interspersed with the story are chapters about what happened to Zack 12 years ago after he was arrested for multiple murders and the horrors he lived through. 
What Have We Done is the best of the 3 books. Everything that has happened in all of the books comes together in a way that I never expected. To get to that point, though, not only does a lot have to happen, such as breaking Zack out of SkyRest, but then Kate, Seth, and the kids have to take a leap of faith…
I like the author's writing style and the Roshina Ratnam did a good job narrating. Her enunciation and timing were great. This book could be read as a stand alone but I don't recommend it. It would be much better experience if you read the books in order.

x
x
x

PREQUEL
Aug. 7th:
Dab of Darkness Audiobook Reviews
Aug. 8th:
Aug. 9th:
Aug. 10th:
Aug. 11th:
Aug. 12th:
Carolyn M. Walker, Author of Thrilling Fiction
Aug. 13th:
BOOK ONE
Aug. 14th:
Dab of Darkness Audiobook Reviews
Aug. 15th:
Aug. 16th:
Aug. 17th:
Aug. 18th:
Aug. 19th:
Aug. 20th:
Carolyn M. Walker, Author of Thrilling Fiction
BOOK TWO
Aug. 21st:
Dab of Darkness Audiobook Reviews
Aug. 22nd:
Aug. 23rd:
Aug. 24th:
Aug. 25th:
Aug. 26th:
Aug. 27th:
Carolyn M. Walker, Author of Thrilling Fiction
BOOK THREE
Aug. 28th:
Dab of Darkness Audiobook Reviews
Aug. 29th:
Aug. 30th:
Sep. 1st:
Sep. 2nd:
Carolyn M. Walker, Author of Thrilling Fiction
Sep. 3rd: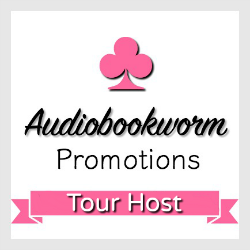 ➜Sign up as a host here