Author: AJ Eversley
Narrators: Chelsea Stephens, Steve Campbell
Series:

The Watcher Series, Book 3
Publisher: Author AJ Eversley
Genre: Science Fiction; Young Adult


The explosive conclusion to the Watcher Series will decide the fate of the entire human race.

Sawyer has been a Watcher. She's been a Carbon. Now she must become their Savior.

With the inevitable return of Coleman looming, Sawyer knows their army is not enough. On a journey to convince an ally to join their war, Sawyer discovers why the stars have placed the fate of the human race in her hands. And she's not alone.
Kenzie is her enemy. He is wrong and ruthless, and he's tried to kill Sawyer more than once. Yet she still can't stay away. Both drawn to each other in a way neither can explain, they must learn to trust one another as well as themselves if they want to survive. And soon, Sawyer will find she must trust in the stars to protect her and put her faith in others if she wants to live.

Find out who will survive, and if they can save humanity from a future painted black, in the epic conclusion of the Watcher Series.


AJ Eversley is the author of the WATCHER series. A true north Canadian girl, AJ currently lives in Central Alberta with her husband and dog. When she's not writing, she can be found binge watching Harry Potter, quoting various movies in everyday conversation, and eating copious amounts of candy.

Chelsea Stephens has a long time love and appreciation for the performing arts, with experience in on-stage acting, singing and voice over. Her love for reading books and the pursuit of the story led her to narration. She enjoys unfolding characters and bringing listeners into new worlds. Chelsea is an experienced voice actor with a talent for mystery, fantasy and YA novels. She's a mom to a gaggle of young ones living in the Midwest with her lumbersexual husband.

My first priority as a voice-over artist is to convey your thoughts and ideas in an entertaining and insightful manner; not distracting from your message, but enhancing your words. It is my personal goal to help your audience engage with the text in an immersive and memorable way.

As a techie with a passion for performance and a love of the written word, the voice-over industry called to me. I am now fortunate enough to be living my dream of audiobook narration from my home studio, in Calgary, AB, Canada.

I received this audiobook as part of my participation in a blog tour with Audiobookworm Promotions. The tour is being sponsored by AJ Eversley. The gifting of this audiobook did not affect my opinion of it.
Savior picks up a short time after the end of Carbon. Sawyer seems to have finally accepted the fact that she is a Carbon. She's in a relationship with Max who helped her get through Kenzie's death. But Kenzie is alive and has been turned into the enemy by Coleman so they have him in a cell with his powers controlled. Poor Sawyer truly loves Max but still has a bond with Kenzie that won't let her go no matter how much she tries and despite the fact that he tried to kill her.
The characters are well developed and they're as complex as "real" people. The main characters have gone through so much and they're so strong, that it's difficult to read about these further trials that they're going through. Sawyer is in an impossible situation as far as her relationships are concerned and she doesn't feel comfortable being the Savior. She wants to help others and doesn't want to be the recipient of help from others, which is understandable given her nature. There are a lot of characters but it was easy for me to keep them separate.
The narrators do a great job. The primary narrator is Chelsea Stephens and she's perfect performing Sawyer's part with good timing and inflection. I was able to feel what Sawyer was feeling.
Savior is full of action, heartache, war, a couple of twists, and even a little humor. I was not able to put this book down the first time I read it and it was the same when I listened to it. There was so much happening throughout the book. I liked the ending, which is good after reading three books. 

Giveaway: 3-month Audible Membership
Watcher Series Giveaway: 3-month Audible Membership

BOOK ONE
Mar. 5th:
Mar. 6th:
Mar. 7th:
Dab of Darkness Audiobook Reviews
Mar. 8th:
Mar. 9th:
Mar. 10th:
Mar. 11th:
BOOK TWO
Mar. 12th:
Mar. 13th:
Mar. 14th:
Dab of Darkness Audiobook Reviews
Mar. 15th:
Mar. 16th:
Mar. 17th:
Mar. 18th: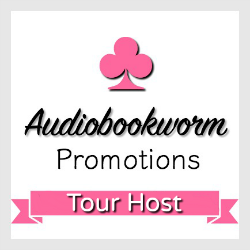 ➜Sign up as a host here