Author: Dave McCluskey
Narrator: Liam Scott
Length: 1 hour 11 minutes
Publisher: Dammaged Productions
Released: Nov. 20, 2020
Genre: Classics

A classic Christmas tale, lovingly recreated in this beautiful audio book.

The reviled Scrooge is visited by three spirits who teach him the real meaning of life.

The tale has been turned into rhyme, making this a delightful new twist to the story you know so well. Could it be a new addition to your Christmas traditions?



I received this audiobook as part of my participation in a blog tour with Audiobookworm Promotions. The tour is being sponsored by Dave McCluskey. The gifting of this audiobook did not affect my opinion of it.
Like many others, I enjoy reading Christmas books and watching Christmas movies, so I was excited to listen to the audiobook of A Christmas Carol. I didn't realize until I started listening to it that it's in rhyme! I already knew that Dave McCluskey is talented, but this book is impressive. It has to be difficult to take a book that was written so many years ago and turn it into a rhyming book.
The narrator, Liam Scott, does a magnificent job. This is one of the best audiobooks I've listened to. His pace and timing are perfect, and he does a splendid job at the different voices.
This version of A Christmas Carol is a good audiobook for both adults and children. All ages will enjoy listening to it. I know it's a book that I'll add to my Christmas tradition.
Writing as D E McCluskey, I write novels, graphic novels and comics. I live in Liverpool (UK) with my partner and our daughters, one of them an author in her own right (at the age of 11) with her children's adventure The Hangry Hamster.
I began writing in 2011, creating my first comic publication entitled Interesting Tymes. This is an anthology of short horror stories written in rhyme for children and adults, introducing the world to Edward D'Ammage. The first book was quickly followed by Interesting Tymes x 2 and the spin off series called Edward D'Ammage Presents: The Wedding.
I then moved on to more adult related fiction, bringing out the one shot Wooden Heart, followed by the full graphic novel Doppelganger.
I then moved on to produce a number of comics and graphic novels, including The Few, a zombie series, DeathDay Presents, a graphic novel comedy based in Hell, Three Days in the City, The Adventures of Mace Masoch and many more. I wrote and produced a full graphic novel for children entitled OLF, a clever twist on an old Christmas tale. Spurred on by this, I partnered up with artist Joe Matthews to produce a retelling of the classic Christmas tale A Christmas Carol, re-writing it completely in rhyme.
I then turned my sights towards writing novels. My debut novel The Twelve was released in 2017 to great reviews. This was followed by a collaboration with a local, Liverpool music historian, to produce a historical thriller called In The Mood… For Murder, based in Liverpool in 1946.
My next novel was a dark, brutal psychological horror entitled CRACK, which tackles the issues of PTSD and addiction.
I then produced a romance/horror/comedy crossover entitled Z: A Love Story.
In August 2019 I did a collaboration with another author based in Liverpool. C William Giles. The book is called The Contract and will be the first of a trilogy.
Butterflies, my first foray outside the genre of horror/thriller is a female led drama, was released on 1st October 2020.
I have produced 2 audio books, one of CRACK and the other of A Christmas Carol.
My future works will include horrors, thrillers, children's books and YA adventures.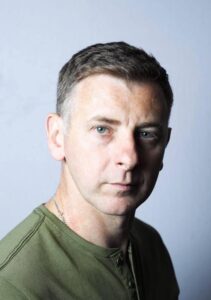 Liam Scott Actor – Director – Writer (Ginificent) A dynamic and motivated Actor, Writer and Director with a twenty year history of performing live and on film. Liam is an exceptional performer and producer who can achieve many accents and dialects at ease. He has a professional studio and can create quality mastered recordings, with sound knowledge of logic pro and final cut. He has enjoyed a successful career as an actor on Stage and more recently on TV & Film. Liam is a passionate creative and thrives on managing projects from concept to completion. Previously a teacher of The Arts and and avid reader, Liam loves bringing books to life and delivers performances with perfection and understanding. He has an in-depth knowledge of classic texts and has created stage plays in support of GCSE English, delivering creative workshops nationwide. An adaptable and transformational actor with an ability to work independently. Liam is also a musician and has vast experience of creating soundscapes and music in support of TV, theatre and radio plays.
Continue reading