Author: Rachel Amphlett
Narrator: Alison Campbell
Length: 6 hours 39 minutes
Series: Detective Kay Hunter, Book 7
Publisher: Saxon Publishing
Genre: Mystery, Police Procedural
Released: Feb. 8, 2019


When a mummified body is found in a renovated building, the gruesome discovery leads Detective Kay Hunter and her team into a complex murder investigation.

The subsequent police inquiry exposes corruption, lies and organised crime within the tight-knit community – and Kay's determination to seek justice for the young murder victim could ruin the reputations of men who will do anything to protect their business interests.

But as Kay closes in on the killer, tragedy strikes closer to home in an event that will send a shock wave through her personal life and make her question everything she values.

Can Kay keep her private and professional life under control while she tries to unravel one of the strangest murder cases of her career?


Before turning to writing, Rachel Amphlett played guitar in bands, worked as a TV and film extra, dabbled in radio as a presenter and freelance producer for the BBC, and worked in publishing as a sub-editor and editorial assistant.

She now wields a pen instead of a plectrum and writes crime fiction and spy novels, including the Dan Taylor espionage novels and the Detective Kay Hunter series.

Originally from the UK and currently based in Brisbane, Australia, Rachel cites her writing influences as Michael Connelly, Lee Child, and Robert Ludlum. She's also a huge fan of Peter James, Val McDermid, Robert Crais, Stuart MacBride, and many more.

She's a member of International Thriller Writers and the Crime Writers Association, with the Italian foreign rights for her debut novel, White Gold sold to Fanucci Editore's TIMECrime imprint, and the first four books in the Dan Taylor espionage series contracted to Germany's Luzifer Verlag.

I received this audiobook as part of my participation in a blog tour with Audiobookworm Promotions. The tour is being sponsored by Rachel Amphlett. The gifting of this audiobook did not affect my opinion of it. I have listened to all of the books in the Kay Hunter series so far and I enjoy them.
Kay Hunter and her team are called when a mummified body falls out of a ceiling in a building and lands on someone. Can you imagine? Once they identify the body, will they be able to track down the murderer after all this time? As the team investigates, they expose criminal activity of a local business that has a security contract with the business, but they're not sure that they are responsible for the murder.
This series is about the same investigators, but each case is quite a bit different. I like Kay Hunter and the members of her team. She's intelligent, strong, and dedicated and her team members are supportive of her and each other, and they are close enough that they know each other well. 
 Rachel Amphlett has a great writing style and the narrator does a good job with pace and enunciation. Bridge to Burn is a detective mystery with an interesting and surprising end. Just when I thought I knew what had happened…surprise! If you like crime fiction, this is a must read. I'm looking forward to more Kay Hunter books.

3 Winners: Free copy of Bridge to Burn Audiobook from Authors Direct

Feb. 19th:
Feb. 20th:
Feb. 21st:
Feb. 22nd:
Feb. 23rd:
Dab of Darkness Audiobook Reviews
Feb. 24th:
Feb. 25th: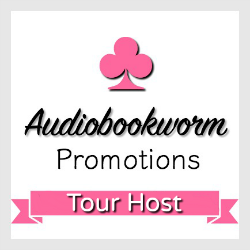 ➜Sign up as a host here