x
x
Author: Nick Sullivan
Narrator: Nick Sullivan
Length: 8 hours 10 minutes
Publisher: Wild Yonder Press
Released: May 1, 2018
Genre: Action-Adventure

x
x

In the turquoise waters of the Caribbean, something lethal is on the move.

Scuba divers travel from all over the world to visit the little island of Bonaire, with its crystal-clear waters and a host of beautiful marine life. After three years in the "Diver's Paradise", divemaster Boone Fischer thought he'd seen it all; but on a routine afternoon dive, he spots something that will turn his tranquil life upside down.

From the arid shores of the ABC Islands to the tropical jungles of Venezuela—from the ocean depths of the Southern Caribbean, to the lush islands of the Northern Leewards, Deep Shadow takes Boone and the reader on an action-packed adventure filled with danger and suspense.

"The age-old adage of 'write what you know' becomes very important when you write about a technical subject like scuba diving. When you get all the details right, and throw in just the right amounts of action, humor, romance, and suspense, you have a novel like this." – Wayne Stinnett, bestselling author of "Fallen Out".



x
x
x
x

Born in East Tennessee, NICK SULLIVAN has spent most of his adult life as an actor in New York City, working in theater, television, film, and audiobooks. After narrating hundreds of books over the last twenty years, he decided to write his own. Nick has been an avid scuba diver for many years and his travels to numerous Caribbean islands have inspired this series. His first novel, "Zombie Bigfoot", hit #1 in Horror Comedy on Amazon.

NICK SULLIVAN has been narrating audiobooks for over twenty years, recording over four hundred titles and receiving numerous AudioFile Earphones and Audie nominations and awards. He has worked extensively on Broadway and at many U.S. theaters. His TV credits include The Good Wife, The Affair, Divorce, Younger, Bull, Madam Secretary, Boardwalk Empire, 30 Rock, Elementary, and all three Law and Order series. Film credits include Our Idiot Brother and Private Life. Proud member of SAG-AFTRA.
x
x

I received this audiobook as part of my participation in a blog tour with Audiobookworm Promotions. The tour is being sponsored by Nick Sullivan. The gifting of this audiobook did not affect my opinion of it.
Boone and Emily work for the same company as divemasters on the island of Bonaire. Deep Shadow begins with their underwater adventures and the excitement of taking visiting divers out to explore. But when an odd looking submarine is sighted, their world is turned upside down.
Some of the chapters are about the terrorists and the sub and what they plan on doing with it. Knowing their plans and wondering if someone was going to figure it out was suspenseful.
I like the author's writing style. I could visualize the islands and the underwater scenes. The characters are well defined and interesting. He also narrated his own book which doesn't work out well sometimes but he did a fantastic job and added even more to the story by telling it himself. 
Deep Shadow has it all…action, suspense, humor, and even a little romance. I'm glad I listened to it. I'm sure I would have liked it if I'd read it, but this is one of those books that makes good listening. I also enjoyed listening to the author explain at the end how he came up with the idea of the book, that he's visited the islands, and the effects of the hurricanes in that area of the world over the past few years.
Q&A with Author/Narrator Nick Sullivan
Tell us about the process of turning your book into an audiobook.

The interesting thing about my process, having narrated over 400 titles over more than twenty years, is I've learned how effective a narrator is at catching typos, clunky sentences, and even plot inconsistencies. My final polishing on the writing occurs in the booth as I record. I have a separate document open where I make notes about what I have decided to change as I narrate; then I go back to the manuscript and apply what I learned in front of the microphone before finalizing it.

How did you wind up narrating audiobooks? Was it always your goal or was it something you stumbled into by chance?

I was at an audition and saw a notice on a cork board, asking from actors to narrate books for the blind for charity, for the Jewish Braille Institute. I put the number in my pocket. The next week I was shooting an NYU film, and the actress who was playing my wife said she recorded for Talking Books. I took their number. On lunch break I went to this device that used to exist, a "pay phone" and made two calls. First, to Jewish Braille, offering to narrate that week. Then to Talking Books… letting them know I "had experience narrating audiobooks… although I wasn't available until the following week. I taught voice and speech at Rutgers and was good at accents, so I was able to convince them to see me. By the end of that next week, I'd made my first money as a narrator, with "A Day No Pigs Would Die".

How did you decide how each character should sound in this title?

I create a "VoiceScape" for everyone in the book, noting every single thing the author gives me about where a character is from, their physical appearance, personality, speech quirks. Then I just let the information form the voice… though I always go through and make sure I don't have characters that are going to be too similar side by side.

Were there any real life inspirations behind your writing?

Yes. I've been diving for twenty years, visiting numerous Caribbean islands. Many things in this book were loosely based on things I experienced (or heard about). I reached out to some folks I've dived with, and some authors I've narrated for who know the ocean well, for additional inspiration.

Do you read reviews for your audiobooks?

Sometimes. It's interesting, I know so many narrators who have declared "I stopped reading reviews"; and then I narrated a book by a mindfulness guru who sited a psychological study that a "negative occurrence" has about four times the weight as a positive one. And I think that's true! We all want to be liked… so when you see a negative review, you want to say "Why don't they like me?" One of the biggest names in the biz (I won't say who) got all wound up by this incredibly tiny amount of bad reviews. It's really like everywhere else in life, you can't please everyone. I just do my best to please the author! I always appreciate "author approval" auditions for title assignment. It's a good start to know that they chose your voice and performance.

What do you say to those who view listening to audiobooks as "cheating" or as inferior to "real reading"?

I feel like I hear that less and less every year. It IS a different experience, I'll give you that. The narrator IS going to influence how you experience the book… and that's not always going to be a good thing.

What's next for you?

Nick the Writer is 30,000 words into "Zombie Bigfoot" sequel… but first I have to narrate a space opera sci-fi, three short romance double headers, and Wayne Stinnett's upcoming thriller, "Enduring Charity"!

Bonus question: Any funny anecdotes from inside the recording studio?

The engineers at Talking Books made a "mix tape": they collected years of actors laughing uncontrollably, narrating extremely steamy sentences, belching impressively, going on a rant about run on sentences. We had no idea they were saving these snippets and it was HYSTERICAL.
x
x

Deep Shadow Giveaway: Signed Book + AudioFile Subscription
x
x

May 6th:
Dab of Darkness Audiobook Reviews
May 7th:
May 8th:
May 9th:
May 10th:
May 11th:
May 12th:
x
x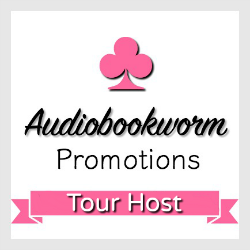 ➜Sign up as a host here